Who can you find at Thrice Fiction?
Updated April 13, 2013

JAYLEE ALDE lives in Los Angeles but cut his teeth in Oakland, CA. He has been published before, but more importantly, he frequently dreams of owning a '72 Chevelle and taking long quiet drives and that says more about him than anything else.
• • • Apears in: Thrice Fiction #6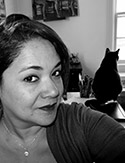 GESSY ALVAREZ received her MFA from Columbia University. She's taught fiction in the New York City public school system and at Columbia University Medical Center. Her fiction has appeared in Bartleby Snopes, Camroc Press Review, Black Heart Magazine, Pure Slush, Connotation Press, Pank, and other publications.. You can find more of her work on her page at Fictionaut (fictionaut.com/users/gessy-alvarez) and on her blog, Digging Through the Fat (gessyalvarez.wordpress.com).
• • • Apears in: Thrice Fiction #5, #7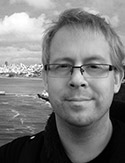 DAVID S. ATKINSON received his MFA from the University of Nebraska. His writing appears in Grey Sparrow Journal, Interrobang?! Magazine, Atticus Review, and others. His novel in short story form, Bones Buried in the Dirt (BonesBuriedInTheDirt.com), was published in January 2013 by River Otter Press. His writing website is DavidsAtkinsonWriting.com and he spends his non-literary time working as a patent attorney in Denver.
• • • Apears in: Thrice Fiction #7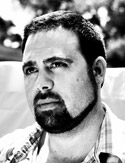 ADAM HEATH AVITABLE is a humorist, nudist, satirist, misandrist, elitist, and cunning linguist who likes to drink martinis with a twist. When he's not terrifying the world with testicular photography over at his blog at Avitable.com, he wastes his law degree by doing stand-up comedy and offering free mammograms out of the back of a van.
• • • Apears in: Thrice Fiction #2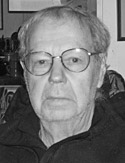 DAVID ACKLEY lives and writes in the White Mountains of New Hampshire. His work has been recently seen in Prick of the Spindle, Litsnack, A-Minor and THIS, and received editors' nominations for the 2011 Million Writers' Award and The Best of the Net Anthology.
• • • Apears in: Thrice Fiction #4


mIEKAL aND is Professor Emeritus of the Department of Yet To Be Invented Languages at the Invisible College of the Republic of Qazingulaza. He is the author of numerous books of experimental text & visual poetry available from xexoxial.org. His digital poetry & hypertext works can be found at joglars.org. Sometime in the not too distant future, his lifelong poem Samsara Congeries will be published by BlazeVox [books].
• • • Apears in: Thrice Fiction #4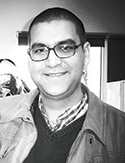 BRIAN MICHAEL BARBEITO is a resident of Ontario, Canada. He is the author of a compilation of short writings entitled Vignettes. A Pushcart Prize nominee, Brian has writing in or forthcoming at various venues such as Glossolalia, character i, Kurungabaa, and NFTU (Notes from the Underground) magazines.
• • • Apears in: Thrice Fiction #5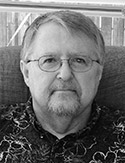 TOM BARLOW is an Ohio writer. Other stories of his may be found in several anthologies including Best New Writing 2011 and numerous magazines and journals including Redivider, Temenos, The Apalachee Review, Hobart, Needle, The William and Mary Review, and Hiss Quarterly. He writes because conversation involves a lot of give and take, and he's always thought of himself as more of a giver.
• • • Apears in: Thrice Fiction #7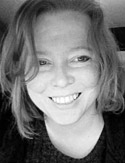 LYNN BEIGHLEY is a fiction writer stuck in a technical book writer's body. Her stories often involve deeply flawed characters and the unsatisfying meshing of the virtual and actual world. She has an MFA in Creative Writing and currently has 13 books published. You can find more of her work in the e-book The Lost Children: A Charity Anthology, as well as her page at Fictionaut and on Twitter as @lynnbeighley.
• • • Apears in: Thrice Fiction #4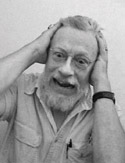 JOHN M. BENNETT has published over 300 books and chapbooks of poetry and other materials. Among the most recent are rOlling COMBers (Potes & Poets Press), MAILER LEAVES HAM (Pantograph Press), LOOSE WATCH (Invisible Press), HISTORIETAS ALFABETICAS (Luna Bisonte Prods), and PUBLIC CUBE (Luna Bisonte Prods). He has published, exhibited and performed his word art worldwide in thousands of publications and venues. He was editor and publisher of LOST AND FOUND TIMES (1975-2005), and is Curator of the Avant Writing Collection at The Ohio State University Libraries. Richard Kostelanetz has called him "the seminal American poet of my generation". His work, publications, and papers are collected in several major institutions, including Washington University (St. Louis), SUNY Buffalo, The Ohio State University, The Museum of Modern Art, and other major libraries. His PhD (UCLA 1970) is in Latin American Literature. He can be found online at JohnMBennett.net.
• • • Apears in: Thrice Fiction #1, #2, #3, #4, #6


ANN BOGLE has short stories appearing online at Black Ice, Big Bridge, Minnetonka Review, Mad Hatters' Review, Istanbul Literary Review, Metazen, Blip, Wigleaf, Big City Lit, fwriction : review, and Fictionaut. Solzhenitsyn Jukebox, a collection of five stories, was published by Argotist Ebooks in 2010. Country Without a Name, 24 stories and prose poems, is due from Argotist in the summer of 2011. Visit Ana Verse at: annbogle.blogspot.com.
• • • Apears in: Thrice Fiction #2, #3, #4


JUSTIN J. BROUCKAERT is a creative writing senior at Saginaw Valley State University, is a fiction writer, journalist and occasional slam poet. He sometimes thinks out loud at jjbwrites.wordpress.com
• • • Apears in: Thrice Fiction #5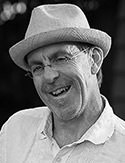 JAMES CLAFFEY hails from County Westmeath, Ireland, and lives on an avocado ranch in Carpinteria, CA, with his wife, the writer and artist, Maureen Foley, their daughter, Maisie, and Australian cattle-dog, Rua. His work appears in many places, including The New Orleans Review, Elimae, Connotation Press, and Word Riot. His website is at jamesclaffey.com
• • • Apears in: Thrice Fiction #4, #6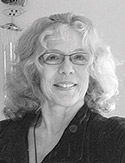 REGINA CLARKE has written nonfiction in academia and for high tech. Her stories have been published in Subtle Fiction, A Twist of Noir, and Halfway Down the Stairs. A science fiction story was recently accepted by Bewildering Stories. She has also ghost-written an autobiography for an Indian preacher, published a book on environmental management, and created an online workbook on soul development. Her last, slow drive cross-country took her through a lot of small towns like the one she grew up in, and the one in her story.
• • • Apears in: Thrice Fiction #5


PETER COLWELL is from a small, bucolic town in Maryland. He now lives just outside Washington, D.C with his beautiful wife (green eyes) and beautiful dog (boxer). "Memory" is Peter's first published fiction.
• • • Apears in: Thrice Fiction #6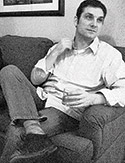 DARREN CORMIER lives and works in the Boston area. His work has previously appeared in numerous journals including Amoskeag, Every Day Fiction, Opium Magazine, and one forty fiction, among others. His first collection A Little Soul: 140 Twitterstories is currently available in most online catalogs. More of his work can be found at his website darrencormier.com
• • • Apears in: Thrice Fiction #5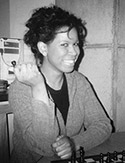 JOCELYN CRAWLEY is a 28-year-old college student currently pursuing a Masters of Divinity degree in preparation to become a pastor. Her writings have appeared in Jerry Jazz Musician, Nailpolish Stories, Visceral Uterus, Dead Beats, and Haggard and Halloo. Other works are forthcoming in Faces of Feminism, Four and Twenty, and Calliope. You can access her blog at JocelynCrawley.blogspot.com and articles at the following link... http://contributor.yahoo.com/user/1694109/jocelyn_crawley.html.
• • • Apears in: Thrice Fiction #7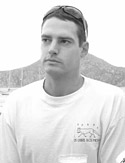 Like the nomadic Pericú natives centuries earlier, MATTHEW DEXTER survives on a hunter-gatherer subsistence diet of shrimp tacos, cold beer, and warm sunshine. He lives in Cabo San Lucas, Mexico.
• • • Apears in: Thrice Fiction #4


JASON DeYOUNG lives in Atlanta, Georgia. His work has appeared most recently in Corium, The Los Angles Review, The Fiddleback, New Orleans Review, and Best American Mystery Stories 2012. He is a frequent contributor to Numéro Cinq Magazine.
• • • Apears in: Thrice Fiction #7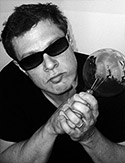 MICHAEL DICKES is a writer of fiction and songs from the mountain roads of Lake Chelan, WA now living in New York City. His stories have been or are soon to be featured in Southpaw Journal, Tree Killer Ink, Kerouac's Dog Magazine, Thunderclap Press, Apocrypha & Abstractions, Connotations Press, THIS Literary Magazine, Blue Fifth Review, Fictionaut Editor's Eye, Pure Slush, Flash Flood Journal, Duality–The Book, Do Hookers Kiss Magazine, The Istanbul Literary Review, Metazen, and others. His numerous CDs include Trouble, Dig, Loose Ends, Moveable Child, and Thirty-Five. His latest self-titled album is available at: cdbaby.com/cd/michaeldickes. A story vignette set to film entitled New York City is free to watch at: youtu.be/bZu-lxg48cA
• • • Apears in: Thrice Fiction #6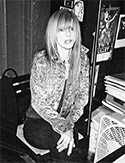 STEPHANIE E. DICKINSON raised on an Iowa farm now lives in New York City. Her novel Half Girl is published by Spuyten Duyvil as well as the novella, Lust Series. She is the winner of New Delta Review's 2011 Matt Clark Fiction prize judged by Susan Straight. Her work has appeared in many journals including Fjords, Nimrod, Tusculum Review, Bluestem, Mudfish, and Stone Highway Review. Her new novel Waking Water will appear in 2013 from Rain Mountain Press. Along with Rob Cook she edits SkidrowPenthouse.net. Although she was once a farm girl she's a member of Farm Sanctuary and American Fandouk, a veterinary clinic that serves the working animals of Morocco and their human families. Her website is StephanieDickinson.net
• • • Apears in: Thrice Fiction #6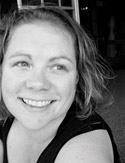 ALEATHIA DREHMER is the editor of the flash fiction website In Between Altered States. Her flash fiction has been featured in Doorknobs & Bodypaint, Eclectic Flash, Curbside Splendor, Full of Crow, Mighty Mercury and Zygote in my Coffee. She looks for time warps around every corner..
• • • Apears in: Thrice Fiction #3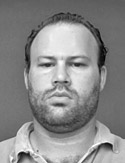 Almost a decade ago B.D. FISCHER wrote "Fiction is, by definition, a counter-factual medium," and this belief has carried him into places like Literary Lunes, Tawdry Bawdry, MP, and The Toucan. It's unclear whether it's related to the poems in places like Notes, Blast Furnace Press, and Poetry Quarterly. It's almost certainly irrelevant to his pontifications at the politics and culture blog Public (dis)Interest (publicdisinterest.com) and atrocious advice at The Fischer System (fischersystem.blogspot.com). He is currently homeless and sleeping in Central Texas.
• • • Apears in: Thrice Fiction #4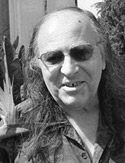 JACK FOLEY is a poet and critic living in the San Francisco Bay area. Foley's radio show, Cover to Cover, is heard every Wednesday at 3:00 p.m. on Berkeley station KPFA; his column, Foley's Books, appears in the online magazine, The Alsop Review. In June 2010, he received the Lifetime Achievement Award from The Berkeley Poetry Festival. Foley's most recent book of criticism is The Dancer & the Dance: A Book of Distinctions (Red Hen Press); his most recent poetry chapbook is A Disordered City, available as an eBook at: Ahadada Books and in print as part of Ahadada Reader 3. For more information, visit his website at jack-adellefoley.com.
• • • Apears in: Thrice Fiction #1, #2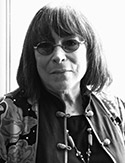 BRANDON FRENCH is the only daughter of an opera singer and a Spanish dancer, born during a shortage of bananas at the end of the Second World War—significant because her mother believed that a child could not be properly raised without mashed bananas, which may help to explain her spotty life. She has been (variously) an assistant magazine editor for Modern Teen, a topless Pink Pussycat cocktail waitress, a Yale assistant professor of English, a published film scholar, a playwright and screenwriter, a psychoanalyst, and a mother. Five of her stories were accepted by literary journals and she was nominated for the Kirkwood Prize in Fiction at UCLA. In November of this year, the New Short Fiction Series in North Hollywood will be featuring her short stories in Choking on the Bone.
• • • Apears in: Thrice Fiction #7


GLORIA GARFUNKEL is a clinical psychologist with a Ph.D. from Harvard University. She has published short stories, flash and micro fiction and memoir in Natural Bridge, Eclectica, Six Sentences and a collection called A Perilous Calling. She currently posts stories at the online writing community Fictionaut.
• • • Apears in: Thrice Fiction #6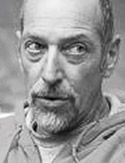 HOWIE GOOD, a journalism professor at SUNY New Paltz, is the author of five poetry collections, most recently Cryptic Endearments from Knives Forks & Spoons Press. He has had numerous chapbooks, including A Special Gun for Elephant Hunting from Dog on a Chain Press, Strange Roads from Puddles of Sky Press, and Death of Me from Pig Ear Press. His poetry has been nominated multiple times for the Pushcart Prize and Best of the Net.
• • • Apears in: Thrice Fiction #5, #7


DANICA GREEN is a UK-based writer of essentially everything, though more often than not it is of the oh-god-we're-all-going-to-die ilk of writing. She has been published in over 40 literary journals and anthologies, including the wonderful Smokelong Quarterly, but she shan't bore you by listing them. If you want to take a look at her author page, she encourages you to do so at Facebook.
• • • Apears in: Thrice Fiction #4


KJ HANNAH GREENBERG snorts and snuffs in poetry and prose. In 2009 and 2011, Hannah was nominated, in the genre of poetry, for the Pushcart Prize. In 2012, also in poetry, she was nominated for The Best of the Net. Hannah's most recent books include: a full-length poetry collection, A Bank Robber's Bad Luck with His Ex-Girlfriend, Unbound CONTENT, 2011; two poetry chapbooks Fluid & Crystallized, Fowlpox Press, 2012, and Supernal Factors, The Camel Saloon Books on Blog, 2012; and a short fiction collection, Don't Pet the Sweaty Things, Bards & Sages Publishing, 2012. In 2013, Vagabondage Press will launch one of Hannah's novels, Ten Kilo and One Million.
• • • Apears in: Thrice Fiction #6


JOSEPHA GUTELIUS writes plays, poetry, and short stories. Her story Penny appears in Best New Writing 2013. A Pushcart Prize nominee, Eric Hoffer Award finalist in Anthologies: Berlin: Inside; Hudson River Valley Writers (Codhill Press, forthcoming). Poetry and prose in Juked, Rain Taxi, BlazeVOX, Per Contra, Offcourse, Blue Lake Review, Salt River, Backhand Stories, Sein und Werden, Argotist, Triggerfish Critical Review, Jivin' Ladybug, EWR: Short Stories, among others. Full-length stage-plays Veronica Cory and Miracle Mile published in stageplays.com and Professional Playscripts. Companions plays RASP/Elektra featured in The Modern Review (and forthcoming from Muse Cafe Press). Her website of selected published work: JosephaGutelius.com
• • • Apears in: Thrice Fiction #7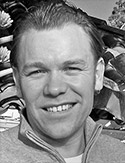 ERIC J. GUIGNARD writes (mostly) dark and speculative fiction from his office in southern California. His most recent writing credits include Stupefying Stories Magazine, +Horror Library+ Vol 5 (Cutting Block Press), The Horror Zine Magazine, and Indie Gypsy. He's a member of the Horror Writer's Association and the Greater Los Angeles Writer's Society. Although his passion is for fiction, he's also a published essayist and editor, including this year's acclaimed collection, Dark Tales of Lost Civilizations. Look for the next anthology, After Death..., to be released in Spring, 2013. Visit Eric at: www.ericjguignard.com
• • • Apears in: Thrice Fiction #6


MICHAEL W. HARKINS is a writer and media consultant in Northern California. Life, again is an excerpt from his in-progress novel of the same title. His commentary has been featured on National Public Radio, and his book on personal communication skills, The Way To Communicate, was published last year by Portsmouth Publishing, Berkeley, California. He occasionally blogs at The Way To Communicate.
• • • Apears in: Thrice Fiction #1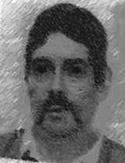 KYLE HEMMINGS has been published in Wigleaf, Storyglossia, Elimae, Match Book, This Zine Will Save Your Life, and elsewhere. His latest collection of prose/poetry is Void & Sky from Outskirt Press. He lives and writes in New Jersey.
• • • Apears in: Thrice Fiction #7


JANE HERTENSTEIN's current obsession is flash. She is the author of over 30 published stories, a combination of fiction, creative non-fiction, and blurred genre both micro and macro. In addition she has published a YA novel, Beyond Paradise and a non-fiction project, Orphan Girl: The Memoir of a Chicago Bag Lady, which garnered national reviews. Jane is the recipient of a grant from the Illinois Arts Council. Her work has appeared or is forthcoming in: Hunger Mountain, Rosebud, Word Riot, Flashquake, Fiction Fix, Frostwriting, and several themed anthologies. She can also be found at MemoirousWrite.blogspot.com.
• • • Apears in: Thrice Fiction #7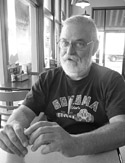 MATTHEW HILL has authored five books of poetry & prose poems, several chapbooks, and has also edited two non-fiction compilations of various quotations. He served as editor/publisher of the Marshall Creek Press series of experimental literature chapbooks (1995-97), and has a book of short fiction soon to appear (The Amplitude of Growlers). Currently he resides in the southern part of Northern California.
• • • Apears in: Thrice Fiction #2, #3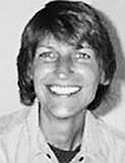 JANE HOPPEN lives in Brooklyn, NY, where she works as a technical and fiction writer. She has had fiction published in various literary magazines, including Story Quarterly, Feminist Studies, Room of One's Own, The Dirty Goat, PANK, Western Humanities Review, Gertrude Journal, Platte Valley Review, The New Sound, Superstition Review, Forge Journal, Rio Grande Review, Meat for Tea, and Hippocampus Magazine. Her first novel, In Between, is being published by Bold Strokes Books in 2013.
• • • Apears in: Thrice Fiction #7


JOE JATCKO lives in Portland, Oregon where he works with kids and encourages them to write. They are publishing a magazine together, however, in that it is a magazine run primarily by children, it has yet to produce an issue. Joe has also written locally for the Arts and Culture section at the Willamette Week, and still owes several parties retractions.
• • • Apears in: Thrice Fiction #7


EDDIE JEFFREY's work has appeared in Chaffey Review, Wheelhouse, Calliope, Murky Depths, Rising (an online journal about philanthropy at Johns Hopkins Institutions), JazzTimes, and The Alexandria Times. He lives near Baltimore, MD with his wife, their daughter, and two dogs.
• • • Apears in: Thrice Fiction #5


VAHID JIMENEZ has been writing stories as long as he can remember, although only recently has he decided to try letting other people read them. His first published story appeared in the debut issue of Thrice Fiction; this will be his second. He takes the odd photograph, too. He live in Portland, Oregon with his girlfriend and a lot of comic books.
• • • Apears in: Thrice Fiction #1, #2, #3


MARYANNE KOLTON's fiction has appeared or is forthcoming in numerous literary publications including the Lost Children Charity Anthology, The Toucan Magazine, Lost In Thought Literary Magazine, Anatomy, Her Circle, and Connotation Press among others. Her story A Perfect Family House was a runner-up for The 2011 Glass Woman Prize. Author interviews with Leah Hager Cohen, Siobhan Fallon, Charles Baxter, Alice Hoffman, Dan Chaon, Tupelo Hassman, Russell Banks, Kathryn Harrison and Charlotte Rogan have appeared most recently in Her Circle, The Literarian/City Center, and January Magazine.
• • • Apears in: Thrice Fiction #5, #7


ROBERT KROESE is the author of Mercury Falls, a humorous novel about angels, linoleum and the apocalypse. Originally self-published, Mercury Falls was republished by AmazonEncore in 2010. The sequel, Mercury Rises, will be published by AmazonEncore in October 2011. Kroese has also written a collection of humorous essays entitled The Force is Middling in This One. His website can be found at http://robertkroese.com/.
• • • Apears in: Thrice Fiction #2, #3


KATE LaDEW is a graduate from the University of North Carolina at Greensboro with a BA in Studio Art. She resides in Graham, NC with her cat, Charlie Chaplin.
• • • Apears in: Thrice Fiction #2, #3


MARTY MANKINS has been writing since he was 12 years old, when his first story he submitted for his English teacher Ms. Bradford was both praised and critiqued. Since then, he has been published in various magazines, periodicals and tech journals. His latest short story, Double Or Nothing, was published in 2010, as part of the series Weirdly Vol. 3 by Wild Child Publishing. Besides writing, Marty considers himself an amateur filmmaker, posting the occasional short video of a scooter ride or an adventure in the snow, with an eye towards creating more elaborate and entertaining works at BanalLeakage.com. He is a self-labeled music and movie buff, obsessed with all things retro and a desire to return to his home state of California some day. Marty currently resides in Salt Lake City, UT with his wife Reba and their cat Rocko.
• • • Apears in: Thrice Fiction #1, #2, #3


CHRIS MANSEL is a writer, filmmaker, epileptic, musician, photographer and a permanent outsider for some reason. He is the author of While in Exile: The Savage Tale of Walter Seems, Ashes of Thoreau, Interviews and two books of photography entitled, No Burden and Ahisma. Along with Jake Berry, he formed the band Impermanence who have released one album, Arito. He releases music under the name dilation Impromptu who have released four albums and have just released a new CD Indentions On The North Face of Everest. His writing is published on the web in many sources.
• • • Apears in: Thrice Fiction #2


MICHELLE MATTHEES lives in Duluth, Minnesota, where she writes poems about life without running water and electricity, pizza delivery, and the coming apocalypse. More info at http://www.mnartists.org/artistHome.do?action=info&rid=257841
• • • Apears in: Thrice Fiction #6


JESSICA MAYBURY is from Dublin, Ireland. She has had work in Nth Word, Word Riot, Prick of the Spindle, Crannóg Magazine and Flaneur. She has work in the current issues of Apt Magazine (issue 2) and Tuck Magazine, and a piece forthcoming in the Tinderbox Network's Gods and Monsters. She lives in interesting times. Jessica can be found online at Perfect Fourth and ESC.
• • • Apears in: Thrice Fiction #4


GLORIA MINDOCK is the author of La Portile Raiului (Ars Longa Press, 2010, Romania) translated into the Romanian by Flavia Cosma, Nothing Divine Here (U Šoku Štampa, 2010, Montenegro), and Blood Soaked Dresses (Ibbetson, 2007). She is editor of Červená Barva Press and the Istanbul Literary Review. Gloria's poetry has been translated into Romanian, Serbian, Spanish, and French. Widely published in the USA and abroad, her poetry recently appeared in Levure Littéraire (France), Vatra Veche (Romania) and in the anthology Hildagards Daughters (Belgium).
• • • Apears in: Thrice Fiction #5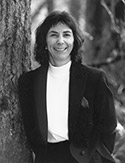 ROBYN PARNELL's fiction has appeared in over ninety books, anthologies, magazines and journals, most of which have not yet filed for Chapter 11 protection. Published works include her short story collection, This Here and Now, and My Closet Threw a Party, a children's picture book. Coming attractions include stories in Stoneslide Corrective, the Joy: Interrupted anthology, and her first juvenile novel, The Mighty Quinn (Scarletta Press , 2013). Current projects include finding publishers for an adult novel and her second short fiction collection and note-taking/"world-making" for second adult and juvenile novels. While not working on innumerable fiction projects Parnell annoys PETA members by campaigning for the extinction of the spineless weasel.
• • • Apears in: Thrice Fiction #6


DARRYL PRICE was born in Kentucky and educated at Thomas More College. A founding member of L. Jack Roth's Yellow Pages Poets, he has published dozens of chapbooks, and his poems have appeared in many journals. Darryl can be found online via his page at Fictionaut.
• • • Apears in: Thrice Fiction #4


MISTI RAINWATER-LITES is the author of several poetry collections and two novels. Misti's second novel, Bullshit Rodeo, is available at smashwords, lulu and amazon. Misti's YouTube channel is Xmas All Year Long (youtube.com/user/roxixmas).
• • • Apears in: Thrice Fiction #5


AHIMAAZ RAJESH lives in India, works for bread, writes to breathe, has work upcoming in Apocrypha and Abstractions. His blog can be found at minimalust.wordpress.com.
• • • Apears in: Thrice Fiction #7


JP REESE has poetry, fiction, creative nonfiction, book reviews, and writer interviews published or forthcoming in many online and print journals such as Metazen, Blue Fifth Review, A Baker's Dozen, JMWW, and The Pinch. Reese is an Associate Poetry Editor for Connotation Press: An Online Artifact, (ConnotationPress.com), and an editor for Scissors and Spackle (ScissorsAndSpackle.com). Cervena Barva Press has scheduled Reese's second poetry chapbook, Dead Letters, for publication in 2013. Her published work can be read at Entropy: A Measure of Uncertainty (JPReeseToo.wordpress.com).
• • • Apears in: Thrice Fiction #7


BRANDON ROGERS is a technical writer by trade, primarily in the field of education, where he has written/edited seven books on topics ranging from financial aid to college admissions. His fictional works have appeared in McSweeney's, The Dead Mule and the Portland Mercury.
• • • Apears in: Thrice Fiction #2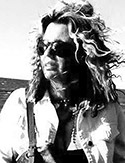 MONIQUE ROUSSEL is a producer, writer, and sometime radio talk-show panelist on SiriusXM and WBAI 99.5 fm. She holds an MA in creative writing, poetics and English literature from New York University. Her work has appeared in World Literature Today, Empirical Magazine, Conclave Literary Journal, The Tulane Review, and the Labletter Annual Journal of Art and Literature, among others. She also has work upcoming in Like a Fat Gold Watch, an anthology celebrating the work of Sylvia Plath. She is the winner of the Conclave Literary Journal Award for Poetry 2010.
• • • Apears in: Thrice Fiction #7


NICK SANSONE holds an MFA in Fiction from the University of Massachusetts-Amherst and is the author of the novels Shooting Angels and The Calamari Kleptocracy. His short fiction has appeared in a number of venues, including PANK, Pear Noir!, Denver Syntax, Bartleby Snopes, Whistling Shade, Big Lucks, Word Riot, and The Los Angeles Review. More information, including a complete listing of his publications, is available at his website: nicksansone.yolasite.com
• • • Apears in: Thrice Fiction #6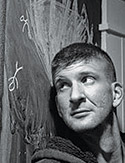 MATT SALYER is a writer based in New Haven, CT. His stories and poems have appeared in Long Poem Magazine, 322 Review, The New Haven Review, Spilling Ink Review, and other places. Sometimes he writes things for The Nervous Breakdown here: http://www.thenervousbreakdown.com/msalyer/ He likes The Searchers because he likes the desert. He likes the desert because it's clean.
• • • Apears in: Thrice Fiction #5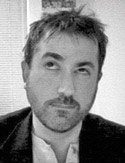 DAVID SIMMER II has been writing fiction for over two decades, and has contributed words and art to everything from comics, magazines, and books to packaging, catalogs, and technical manuals. When not working as a graphic designer in the Pacific Northwest, David enjoys traveling the globe, taking photos, and eating chocolate pudding. He has a personal website at Blogography.com, and maintains a journal of his 144 Hard Rock Cafe visits at DaveCafe.com As co-founder and art director of Thrice Fiction magazine, he spends his more recent days wondering where his life went as deadlines loom ever closer...
• • • Apears in: Thrice Fiction #1, #2, #3


FRED SKOLNIK was born in New York City and has lived in Israel since 1963. He is best known as the editor in chief of the 22-volume second edition of the Encyclopaedia Judaica, winner of the 2007 Dartmouth Medal. He has published stories in TriQuarterly, Gargoyle, The MacGuffin, Minnetonka Review, Los Angeles Review, Prism Review, Words & Images, Literary House Review, Underground Voices, Third Coast, Polluto, etc. His novel The Other Shore (Aqueous Books, 2011) is an epic work depicting Israeli society at a critical juncture in its recent history.
• • • Apears in: Thrice Fiction #5


Long ago JANICE D. SODERLING signed on a tramp steamer bound for Europe to travel around the world, acquire wisdom, and write the great American novel. She never got beyond the first port of call where she's lived for decades with downsized goals and three now full-sized progeny, making her living as a commercial writer and translator. She is very good at doing things the hard way. Thrice Fiction is her 100th unique English-language journal of publication; hundreds of her poems, fictions, translations can be read in print and online journals, most recently at Flash: The International Short-Story Magazine, Mason's Road, Ear Hustler, New Verse News, Rattle, J Journal, Dead Mule School, The Nervous Breakdown, Right Hand Pointing, Antiphon, Horizon Review. She is a member of the Swedish Writers' Union and assistant fiction editor at Able Muse.
• • • Apears in: Thrice Fiction #5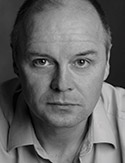 MARCUS SPEH is a German writer who lives in Berlin and blogs at marcusspeh.com. His short fiction collection Thank You For Your Sperm will be published by MadHat Press in 2012. Marcus' short fiction has been nominated for a Micro Award, two Pushcart Prizes, two Best of the Net awards, and two Million Writers Awards, and was long- listed for the Paris Literary Prize. He is a staunch supporter of shipwrecked penguins (http://speh.tumblr.com) and was maitre d' of the legendary Dada venue Kaffe in Katmandu.
• • • Apears in: Thrice Fiction #5


ANDREW STANCEK was born in Bratislava and saw Russian tanks occupying his homeland. His dreams of circuses and ice cream, flying and lion-taming, miracle and romance have appeared recently in The Windsor Review, r.kv.r.y, Tin House online, Flash Fiction Chronicles, The Linnet's Wings, Connotation Press, THIS Literary Magazine, Thunderclap Magazine, Istanbul Literary Review and Pure Slush. His novel-in-stories, starring a teenager named Mirko, set in Bratislava in the sixties, is nearing completion.
• • • Apears in: Thrice Fiction #6


JEFF SWANSON is co-owner of StoryPros.com, a screenplay analysis company. An award-winning screenwriter himself, Jeff's extensive fiction archives can be found online at... jeff2001.livejournal.com, thewordlingsproject.wordpress.com, wordlings.com.
• • • Apears in: Thrice Fiction #3


SUSAN TEPPER is the author of four published books. From the Umberplatzen (Wilderness House Press, 2012)  is her most recent title. It's a quirky love story in linked-flash-fiction that's set in Germany. Tepper has published hundreds of stories, poems, interviews and essays worldwide. She can be found online at SusanTepper.com
• • • Apears in: Thrice Fiction #4, #5, #7


DON THOMPSON was born in Bakersfield, California, and has lived in the southern San Joaquin Valley for most of his life. He is retired from teaching at a nearby prison, and lives with his wife, Chris, on her family's cotton farm. Publications include Been There, Done That (2002), Sittin' on Grace Slick's Stoop (2006), Turning Sixty (2008), Where We Live (2009), and Everything Barren Will Be Blessed (2012). Back Roads won the Sunken Garden Poetry Prize for 2008. Allan M. Jalon's profile, Planted in the San Joaquin, appeared in the LA Times and remains available online.
• • • Apears in: Thrice Fiction #6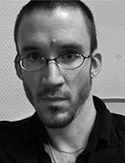 KEVIN TOSCA's stories have recently appeared or are forthcoming in Fleeting, Flash: The International Short-Short Story Magazine, Prick of the Spindle, Underground Voices, The Smoking Poet, and elsewhere. He lives in France. Read more at www.kevintosca.com
• • • Apears in: Thrice Fiction #6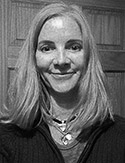 MEG TUITE's writing has appeared in numerous journals including Berkeley Fiction Review, MadHatter's Review, Epiphany, JMWW, One, the Journal, Monkeybicycle, and Boston Literary Magazine. She has been nominated several times for the Pushcart Prize. She is fiction editor of Santa Fe Literary Review and Connotation Press, author of Domestic Apparition (2011) San Francisco Bay Press, Disparate Pathos (2012) Monkey Puzzle Press, Reverberations (2012) Deadly Chaps Press, Implosion and other stories (2013) Sententia Books and has edited and co-authored The Exquisite Quartet Anthology (2011 and 2012) from her monthly column published in Used Furniture Review. Her blog can be found at MegTuite.wordpress.com.
• • • Apears in: Thrice Fiction #7


ROBERT VAUGHAN leads writing roundtables at Redbird-Redoak Writing. His prose and poetry is found in numerous journals. His short fiction, 10,000 Dollar Pyramid was a finalist in the Micro-Fiction Awards 2012. He is a fiction editor at JMWW magazine, Thunderclap! and Lost in Thought. He hosts Flash Fiction Fridays for WUWM's Lake Effect. His book, Flash Fiction Fridays, is at Amazon. His poetry chapbook, Microtones, is forthcoming from Cervena Barva Press. His blog: http://rgv7735.wordpress.com
• • • Apears in: Thrice Fiction #5, #7


LISA VIHOS is a poet in Sheboygan, Wisconsin and has one chapbook, A Brief History of Mail. She is an associate editor of Stoneboat literary journal and her work has appeared in Big Muddy, Free Verse, Goose River Anthology, Red Cedar, Seems, Verse Wisconsin, and Wisconsin People and Ideas. A poem of hers will appear in the anthology Villanelles, due out in April 2012 from Everyman's Library. She serves occasionally as a guest blogger for The Best American Poetry and keeps her own blog at http://lisapoemoftheweek.blogspot.com.
• • • Apears in: Thrice Fiction #3


C. BRANNON WATTS is a poet and educator living in Rockford, IL. He believes that poetry should remain open to interpretation, and routinely burns greeting cards wherever he finds them in the wild. His recent publication credits include work in Ygdrasil, Clutching at Straws, Greatest Lakes Review, and Metazen. He has work forthcoming in e.ratio and Durable Goods, and an ebook entitled Bowl of Light is pending publication.
• • • Apears in: Thrice Fiction #3


With more to come...
Want to contribute to Thrice? Have a look at our submission guidelines!
Thrice Fiction ©2011-2014 by Thrice Publishing
All content is ©2011-2013 by their respective creators and reproduced with permission.
No part of this site may be reproduced without permission from the copyright holders.