Thrice Fiction Submission Guidelines...
Updated May 1, 2018
We are not accepting submissions at this time. Watch this space for more info.
Thrice Fiction is a constant blending of old and new. Of the works we publish, 99% are 100% unsolicited. Consequently this assures you that every story we get, we read. Everything gets a fair shot.
A few things before we dig in...
We don't offer payment... all Thrice Fiction digital editions are free to download.
We accept simultaneous submissions, but request that you identify them as such. Please let us know as soon as possible if your work is accepted elsewhere.
There is no reading fee.
Any work received outside the submission periods (listed on the calendar below) will be discarded.
There are a few things that will hurt your chances. These are not hard-and-fast rules that determine great art from mere baggage. Others may not have the same idea, and that's fine. But here at Thrice Fiction there are certain things we like, and certain things we don't...
Every issue we've ever published is available free in several formats right here on this site. Please review a few recent issues to see what we've accepted so you can know if your work is a good fit for us. This is a fiction magazine. We don't print poetry or coming-of-age stories. This is not a Young Adult venue. We like genre-benders, odd forms, flash, micro, and alternative, but will also include more traditional forms and styles if well-crafted.
We like to have a reason to read past the first paragraph. It's short fiction so have a hook, quickly.
We no longer read material that goes beyond 5000 words.
We can edit punctuation and grammar errors. They happen even to the best. But there is a point at which, if it becomes oppressive in the course of the work, we start to lose faith.
And, of course, all these rules will be tossed away if you send us something that can't be denied.

HOW AND WHEN TO SUBMIT YOUR WORK
We are not accepting submissions at this time. Watch this space for more info.
A note about artwork... If your work is accepted for publication in Thrice Fiction we will pair you with an artist who will provide lovely visuals for whatever space is available in the layout. If you would prefer to provide your own artwork for consideration, that's perfectly acceptable, but you must make arrangements in advance so that we can get you a layout, work with you on the file requirements, and have your artwork approved before we go to press. Please note that all artwork MUST be accompanied by a statement of ownership or permission of use from the artist so that we are in compliance with copyright law. We do not accept any art where there is a question of usage rights. Please contact the Art Director at the address above if you have any questions or need to make arrangements for your story. WE USE ARTWORK IN EVERY ISSUE! If you are an artist and want to inquire about submitting your work, please contact David Simmer at the art submissions address below.
• Send art submission queries to: dave@thricefiction.com — please do not send any material unless requested.
A note about copyright... All material published by THRICE Fiction remains the property of the writer or artist. We only ask for the right to publish said material in our online, digital, and printed editions. This includes archives of these editions both online and in printed annuals and specials.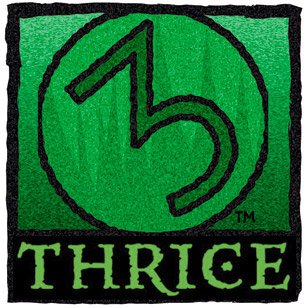 Thrice Fiction ©2011-2017 by Thrice Publishing
No part of this site may be reproduced without permission from the copyright holders.