Thrice Fiction Submission Guidelines...
Updated August 1, 2013
Thrice Fiction is a constant blending of old and new. Of the works we publish, 99% are 100% unsolicited. Consequently this assures you that every story we get, we read. Everything gets a fair shot.
A few things before we dig in...
We don't offer payment... all Thrice Fiction digital editions are free to download.
We accept simultaneous submissions, but request that you identify them as such. Please let us know as soon as possible if your work is accepted elsewhere.
There is no reading fee.
Any work received outside the submission periods (listed on the calendar below) will be discarded.
There are a few things that will hurt your chances. These are not hard-and-fast rules that determine great art from mere baggage. Others may not have the same idea, and that's fine. But here at Thrice Fiction there are certain things we like, and certain things we don't...
Every issue we've ever published is available free in several formats right here on this site. There is absolutely no excuse, except laziness, for not reviewing the work we've accepted in the past to see what we're about. And you know what? Sometimes we get a submission and it is blatantly obvious the writer didn't bother. Why would you do that?
No coming-of-age stories. No stories about your faithful pet dog. Keep the sentimentality to yourself. We get at least one story about suicide every reading period, presumably because the writer thinks it is a dark and brooding subject. It's been done, and it's usually boring. Don't do that.
We like to have a reason to read past the first paragraph. It's short fiction so have a hook, quickly.
We will read material, and have, all the way up to 20,000 words. But beyond 7,000 we start to run into space constraints. We are exploring serializing, novellas, and long pieces. Right now it has a tough time getting in. Understand that from the start if you are sending work beyond 7,000 words.
Poetry has even less of a chance. To be included it has to absolutely take our breath away and never give it back.
We like genre-benders, odd forms, flash, micro, styles and lengths without names yet. But be grounded in standard, classical work. Anybody can spot work that is called "experimental" but is really just stuff thrown on a wall. We don't even like the term "experimental." Work it out in your laboratory before sending it out into the world.
Traditional fiction, in form and story, is always welcomed. For this we value voice, pace, and craftsmanship.
Avoid patois. It can be done well, but when it isn't it's incredibly irritating. And it's rarely done well.
We can edit punctuation and grammar errors. They happen even to the best. We're not grammar Nazis. But there is a point at which, if it becomes oppressive in the course of the work, we start to wonder what the hell is wrong with you and just lose faith. Don't be that guy.
And, of course, all these rules will be tossed away if you send us something that can't be denied.

HOW AND WHEN TO SUBMIT YOUR WORK
All submissions are made via email. Cover letters are a matter of complete indifference to us. So is your bio. We don't care who you are or what you've done or where you have been published. Let the work speak for itself. Nothing is worse than seeing your fantastic bio and, after reading your submission, wondering how you ever got published in the first place.
IMPORTANT: Attach your work to an email as a Microsoft Word .doc file or similar standard text format (like .rtf) to save everybody the extra grief. Don't include the submission in the body of the email — we never know what spacing and form is intended when we transfer emails to the published page.
Have a picture and third-person bio handy when we accept your work. Have another submission handy if we don't.
Thrice Fiction is published thrice yearly, and we ask that you PLEASE do not send any of your work outside the submission windows shown below, or we will be forced to discard it...
| | | | | |
| --- | --- | --- | --- | --- |
| Issue Publication Date | | Submissions Start | | Submissions Deadline |
| AUGUST, 2014 | | APRIL 1, 2014 | | APRIL 31, 2014 |
| DECEMBER, 2014 | | AUGUST 1, 2014 | | AUGUST 31, 2014 |
| APRIL, 2015 | | DECEMBER 1, 2014 | | DECEMBER 31, 2014 |
NOTE: If you have an AOL email address, anything we (and a lot of other people) send to you will NOT get through for some reason. If possible, please provide an alternate email address (such as a Facebook or Gmail address) in case we need to contact you.
• Send fiction submissions to: bob@thricefiction.com — please make sure it is in .doc or .rtf format.
• Send art submission queries to: dave@thricefiction.com — please do not send any material unless requested.
A note about artwork... If your work is accepted for publication in Thrice Fiction we will pair you with an artist who will provide lovely visuals for whatever space is available in the layout. If you would prefer to provide your own artwork for consideration, that's perfectly acceptable, but you must make arrangements in advance so that we can get you a layout, work with you on the file requirements, and have your artwork approved before we go to press. Please note that all artwork MUST be accompanied by a statement of ownership or permission of use from the artist so that we are in compliance with copyright law. We do not accept any art where there is a question of usage rights. Please contact the Art Director at the address above if you have any questions or need to make arrangements for your story. WE USE ARTWORK IN EVERY ISSUE! If you are an artist and want to inquire about submitting your work, please contact David Simmer at the art submissions address above.
A note about copyright... All material published by THRICE Fiction remains the property of the writer or artist. We only ask for the right to publish said material in our online, digital, and printed editions. This includes archives of these editions both online and in printed annuals and specials.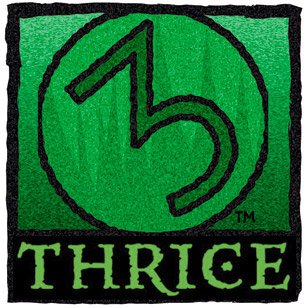 Thrice Fiction ©2011-2014 by Thrice Publishing
No part of this site may be reproduced without permission from the copyright holders.