Thrice Fiction No. 7
Posted March 31, 2013
Welcome to the seventh issue of Thrice Fiction magazine! Published three times a year, Thrice Fiction is filled with stories, art, and a few surprises from a variety of talented contributors. But the best part? It's absolutely FREE! That's right, you can download a free PDF or eBook at no charge, or purchase a beautiful full-color printed copy from MagCloud! Just follow the links below!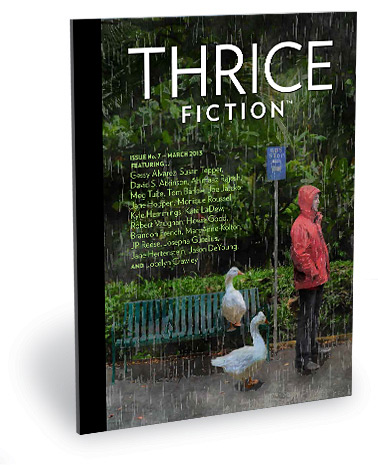 Stories include...
• The Happy Couple by Gessy Alvarez
• Distance by Susan Tepper
• Cents of Wonder Rhymes with Orange by David S. Atkinson
• Cul-de-Sacs & Blindfolds by Ahimaaz Rajesh
• Works by Howie Good
• Huge Things Happen by Meg Tuite
• The Pissing Man by Tom Barlow
• Fly Away by Jane Hoppen
• The Chicken Sees by Monique Roussel
• Works by Kyle Hemmings
• Bubbled Up All Over by Kate LaDew
• Dream Maker by Robert Vaughan
• Living Alone by Joe Jatcko
• Death Car Girl by Brandon French
• Sabeen by MaryAnne Kolton
• Legacy by JP Reese
• A Few Things He Didn't Mention by Josepha Gutelius
• Works by Jane Hertenstein
• Nelson by Jason DeYoung
• Works by Jocelyn Crawley
Note: Thrice Fiction may contain some adult language and situations. Parental guidance is suggested for readers under 17 years of age.

How to get a copy of Thrice Fiction...
FREE PDF! 8.2 MB - CLICK HERE to download a PDF file, suitable for reading on most devices... such as Macs, Windows PCs, Linux PC's, iPads, etc. (click here to learn more).
$11.80 Magazine! CLICK HERE to purchase a beautiful perfect-bound printed copy from MagCloud... NOTE: Shipping charges and applicable taxes are not included (visit their site for more info).
The best way to view THRICE FICTION is via PDF or Print, but we also have e-Books available...
Got an iPad, iPhone, or iPod Touch? Click here for easy 3-step ePub instructions!
FREE eBook! 3.5 MB - CLICK HERE to download an ePub file which will work in most eBook readers for mobile devices... such as iPad, iPhone, Android smartphones, Nook eReader, etc. (click here to learn more).
FREE Kindle! 5.2 MB - CLICK HERE to download a MOBI archive, formatted for Amazon's Kindle... unzip and install via USB to your reader (click here to learn more).
Thanks for supporting Thrice Fiction! Tell your friends!
Want to contribute to Thrice? Have a look at our submission guidelines!
Thrice Fiction ©2011-2013 by Thrice Publishing
All content is ©2011-2013 by their respective creators and reproduced with permission.
No part of this site may be reproduced without permission from the copyright holders.